Urban Sketchers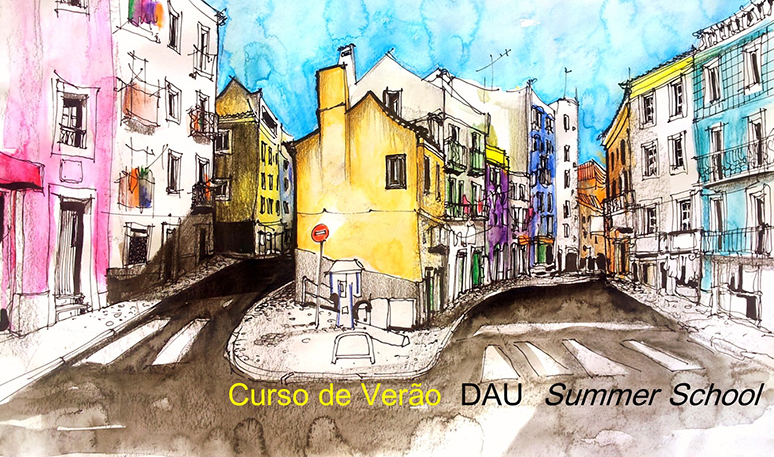 Programa
PRIMEIRA SEMANA First Week
1.ª Sessão 2ºf 17 jul 2017 10h 13h (3 horas) Filipa Antunes
1st Session, Monday, 17 July, with Filipa Antunes
2.ª Sessão 3ªf 18 jul 2017 10h 13h (3horas) Eduardo Salavisa
2nd Session, Tuesday, 18 July, with Eduardo Salavisa
3.ª Sessão 4ªf 19 jul 2017 10h 13h (3horas) Convidado Urban Sketchers Portugal
3rd Session, Wednesday, 19 July, with Urban Sketchers Portugal Speaker to be announced.
4.ª Sessão 5ªf 20 jul 2017 10h 13h (3horas) Mário Linhares
4th Session, Thursday, 20 July, with Mário Linhares
5.ª Sessão 6ªf 21 jul 2017 10h 13h (3horas) André Batista
5th Session, Friday, 21 July, with André Batista
SEGUNDA SEMANA Second Week
6.ª Sessão 2ºf 24 jul 2017 10h 13h (3 horas) Luís Ançã
6th Session, Monday, 24 July, with Luís Ançã
7.ª Sessão 3ªf 25 jul 2017 10h 13h (3horas) Mónica Cid
7th Session, Tuesday, 25 July, with Mónica Cid
8.ª Sessão 4ªf 26 jul 2017 10h 13h (3horas) Convidado Urban Sketchers Portugal
8th Session, Wednesday, 26 July, with Urban Sketchers Portugal Speaker to be announced.
9.ª Sessão 5ªf 27 jul 2017 10h 13h (3horas) Pedro Alves
9th Session, Thursday, 27 July, with Pedro Alves
10.ª Sessão 6ªf 28 jul 2017 10h 13h (3horas) Exposição final de curso
10th Session, Friday, 28 July – Course's final exhibition
Objetivos Gerais
Disponibilizar ferramentas analógicas e técnicas de abordagem ao desenho de observação em ambiente urbano e natural.
Conceber registos similares ao observado, através de processos criativos.
Apresentar desenhos de síntese observada.
General objectives for the SummerSchool UrbanSketchers Course
Providing analogical tools and methodologies for observational sketching in city and natural environments;
Using creative processes to give form to depictions that are similar to what is observed;
Presenting synthesis sketches of observed environment.
---
Objetivos Específicos
Compreender quais os passos a considerar no desenho de observação;
Adquirir conhecimentos tridimensionais que facilitem a elaboração de desenhos de observação;
Determinar os elementos e procedimentos fundamentais para a representação desenhada de um espaço físico;
Compreender o que se espera de um desenho de observação;
Organizar e estruturar corretamente o desenho;
Realizar referências de proporção;
Identificar procedimentos para realizar a tridimensionalidade desenhada;
Distinguir desenho de observação de desenho conceptual.
Specific objectives
Understanding which steps to take in observational sketching;
Acquiring 3-D knowledge to ease the making of observational sketches;
Determining the core elements and procedures for the sketched depiction of a physical space;
Understanding what is expected of an observational sketch;
Organizing and correctly structuring a sketch;
Acquiring proportion references;
Identifying procedures to bring forth three-dimensionality when sketching;
Discerning observational sketching from conceptual sketching.
---
Competências
Aptidão para desenhar através da observação em ambiente urbano e natural;
Capacidade para desenhar tridimensionalmente;
Aptidão para sintetizar e simular o espaço observado num registo desenhado;
Aptidão para o desenho de espaços físicos com figura humana.
Skills to acquire
Performing observational sketching in city and natural environments;
Depicting three-dimensionality when sketching;
Synthesizing and simulating the observed space in a sketch;
Sketching the human figure in physical spaces.
---
Materiais necessários
Diário gráfico formato A5 ou A4
Caneta preta pinceis e aguarelas
Lápis de cor
Materials to bring
Graphic diary in A5 or A4 format
Black pen and watercolours and paintbrushes
Coloured pencils
---
Informação Adicional
Total 10 sessões (3h/dia diurno ou noturno) = 30h
Início 17 de jul 2017
Conclusão 28 de jul 2017
Dirigido a Todos os interessados no desenho, não existindo processo seletivo.